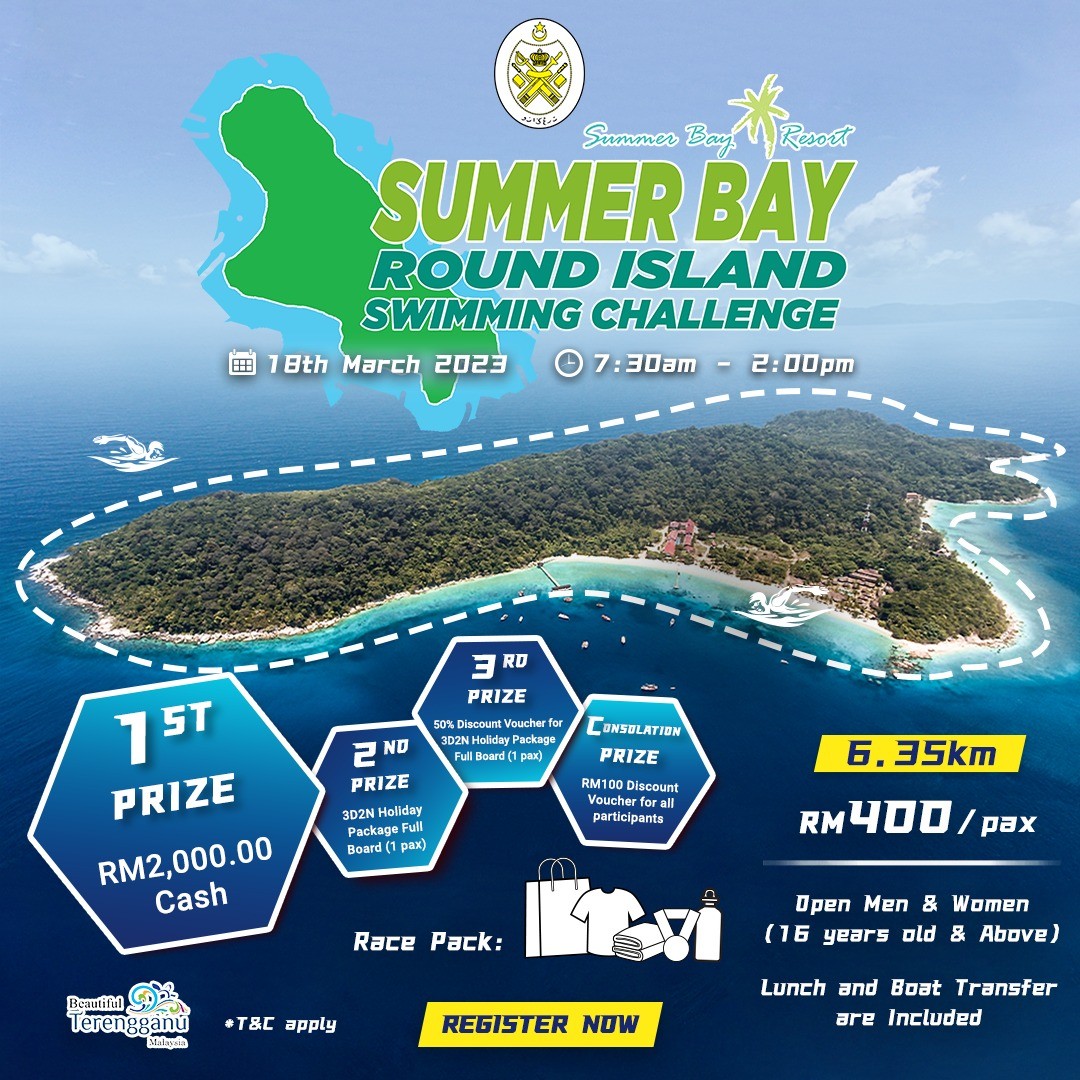 Terengganu Summer Bay Swimming Challenge
📢 𝐇𝐞𝐫𝐞'𝐬 𝐭𝐨 𝐚𝐥𝐥 𝐨𝐮𝐭𝐝𝐨𝐨𝐫-𝐞𝐧𝐭𝐡𝐮𝐬𝐢𝐚𝐬𝐭𝐬: Explore the beautiful Terengganu in a way you've never before!
🏊 We are challenging you to the 2023 𝑺𝒖𝒎𝒎𝒆𝒓 𝑩𝒂𝒚 𝑹𝒐𝒖𝒏𝒅 𝑰𝒔𝒍𝒂𝒏𝒅 𝑺𝒘𝒊𝒎𝒎𝒊𝒏𝒈 𝑪𝒉𝒂𝒍𝒍𝒆𝒏𝒈𝒆! A 6.35km swim around the picturesque Lang Tengah island without fins and life-jacket 🌊
🗓 Date: 18th March 2023
⏱ Time: 7:30AM – 2:00PM
Take home a memorable victory 🙌🏻
🏆 1st: RM2,000.00 𝑪𝑨𝑺𝑯 𝑷𝑹𝑰𝒁𝑬
🏆 2nd: 3D2N Holiday Package Full Board (1 pax)
🏆 3rd: 50% Discount Voucher for 3D2N Holiday Package Full Board (1 pax)
🏆 Consolation: RM100 Discount Voucher for ALL participants
🎁 All participants will be provided with a race pack, including a t-shirt, medal, towel and other items. 🔥 Lunch and boat transfer are included.
𝐉𝐎𝐈𝐍𝐈𝐍𝐆 𝐅𝐄𝐄𝐒 🎟 RM400 per pax
𝐉𝐎𝐈𝐍𝐈𝐍𝐆 𝐓&𝐂
1. Capable of swimming without swimming aid.
2. Consisted of 2 categories:
✅Open men - age 16 and above
✅Open women - age 16 and above
3. Proper swimming attire, swimming goggles and personal swim buoy are mandatory.
𝐒𝐀𝐅𝐄𝐓𝐘
🚨 Summer Bay Resort will be providing full-course security and safety aware at every 500m point to ensure your safety. Embrace the adventurous side of you by signing up today! 🤩